---
Natalie Glasson – Support From The Angelic Kingdom By Archangel Michael – 2 September 2013
As Angelic beings we are aware of the shifts, activations and integrations that occur upon all levels of your being and the numerous levels of the Earth's being. We understand this time upon Earth to be somewhat stressful within certain areas of your being as your spiritual ascension accelerates maybe causing patches of confusion, stress, discomfort and the seeking for greater truth. The energy vibrations anchoring into the Earth, through your being and activating from within your being are far beyond anything you have previously experienced. Their intensity and frequency are immense as the waves of light are designed to create accelerated activation of the truth of the Creator. No longer can false energies, consciousness or manifestation exist in this new era and dimension, everything that is no longer needed within your being and within your reality is being cleansed, purified and released.
Each time you raise your energy vibration or grasp a moment of enlightenment you are encouraging purification within your being. It could be likened to a scan that takes place with each step of enhanced awareness, which erases all that doesn't resonate or align with the new awareness. This scan of the entire being purifies you and allows you to completely embody the new awareness. At this time of ascension you may not even value the new awareness you obtain, the guidance you follow and the sparks of remembrance or familiarity but each, whether large or small, has a strong and powerful impact upon the overall awareness of your being.
Many people ask me if their efforts as a light worker upon the Earth really make a difference to the ascension of humanity and Mother Earth. In light of the wisdom I have just shared, my answer to you is that each time you support, heal, love or have an inspired divine awareness you are encouraging a deep purification for the entire Earth and all of humanity. In the same way that we could imagine a whole body scan to dissolve impurities and align everything with the new awareness, you are encouraging all that is not of a similar energetic frequency and vibration to be raised into a more enlightened consciousness. The light you share, the healing and release processes you move through, encourage all around you to align to a similar or higher frequency and so you are a part of a major network of light working to align all to the source, soul and essence of the Creator whatever form the Creator may take. We wish for you to know that everything you do when connected into, bathing and radiating the light of the Creator will always be of service to the Creator, however small or large. You constantly have the love and support of the Angelic Kingdom. Whatever you achieve even if it is just to sit in peace, you can ask us to magnify and enhance the influence that your moment of sacred connection with the Creator has upon the Earth and humanity, spreading and sharing further light.
It is my wish to share with you some gifts of connection, consciousness and wisdom to support you; these gifts come with love from the inner planes and heavens. Earth Angel Lovanda exists and works at the outskirts of the Earth's auric field; she is an Angel filled with love and able to see the larger picture of all that is occurring upon and even within the Earth.
She supports the anchoring of powerful ascension light waves from the universe in gently permeating the Earth and humanity. An Angel of tremendous expansion, Lovanda wishes to be of service to you. You may allow yourself to exist in a capsule of Lovanda's love; her love is immensely pure as it is untainted by negativity, ego or even the physicality of the Earth. She has the ability to demonstrate to you the expansion, freedom and limitless vibration of love as well as returning you to your true essence, as if allowing you to see the beauty of the jewel within your being. She has the ability to move your consciousness beyond your physical body into a space of pure love for healing, rejuvenation and shifts to take place within your entire being. This is a beautiful experience when you feel you need to shift from the material reality into the light reality of your truth. Simply ask and call upon Earth Angel Lovanda to join you in meditation. Ask to be surrounded in a Capsule of Lovanda's Love and just allow yourself to experience as you breathe deeply, especially focusing upon the expansion, freedom and limitless vibration of love.
Many of the Angels carry within their energy sacred Angelic symbols which can act as keys of awakening for your being. Different Angels work with different and diverse aspects and qualities of the Creator. Depending on the qualities they recognise within themselves the Angels can hold powerful symbols which act as keys and codes for your ascension process and integration with the Creator. Whether you wish for healing, upliftment, magnification or any kind of support you can first become aware of exactly what you require, for example, you may wish to experience or embody more joy. With your intention, call upon the most appropriate Angel to join you in your meditation as you breathe deeply, an Angel which holds the quality that you desire. Then ask the Angel to share with you a symbol of the quality, such as a symbol of joy, allow yourself to hold the intention of receiving. The symbol will be a simple pattern that you can draw upon your body; it may be as simple as a circle or a spiral. Place your left hand or a finger on your right arm and with flow imprint or draw the symbol imagining the light of the Angel flowing through you and into your left hand into your right arm. Let yourself then draw the same symbol upon your left arm, your chest or heart chakra and anywhere else you feel guided to. Allow yourself to be in a deep meditative state with your eyes closed as you achieve this practice. You are integrating the quality of the Angel into your physical reality and activating it from within your being. This is a powerful upliftment for your being and a communion with the Angelic Kingdom. As I stated earlier, we, the Angelic Kingdom are always waiting to support and assist you, through the power of our love.
The Angelic Kingdom can also assist you in moving your entire being into the new energies of this era and becoming settled within the new vibration, or they can assist you in moving into new appropriate energy in certain areas of your reality. Whatever you wish to focus upon the Angels can assist you in this way. First there is simply a need to understand whether you wish to move your entire being into the new ascension energies so that you can digest and embody them or whether you wish to move a certain aspect of your being or reality into a new energy. This would mean that you are opening up this part of your being and reality so that more light can flow to dissolve any blockages or hindrance. Then call upon my energies, Archangel Michael, to be of service to you.
Take time to breathe my energies into your being thus allow us to integrate, exist as one and co create. With your intention, imagine that I place before you a large crystal bowl of the most sacred Angelic liquid light which holds within its vibration the new energies you wish to receive and activate within your being. Allow yourself to prepare for a ceremony, remember that you are responsible for your own spiritual growth but have an abundance of support from your guides, the Angelic Kingdom, your Soul, Soul Group and Creator. With your intention, allow yourself to speak words that state that you are allowing yourself to move completely into a new vibration of energy guided by your soul.
Allow yourself to bless yourself and your transition, whatever you may wish it to be as you witness yourself consciously connecting with the new vibrations of light available to you around and within, so that you are suspended in light. Once you have completed your ceremony and words, cup your hands as if creating a cup to pour the sacred Angelic Liquid Light over your head and entire being.
Physically make the gestures of bathing yourself in the light and allow yourself to be conscious of yourself moving forward into a brighter new light and emerging as a brighter new light. You can then breathe in this new appropriate light for you. I will be there to support and protect you every step ofthe way.
My greatest intention was to bring forth support for your entire being, please accept the tremendouslove and support I share with you now.
With Love and Support,
Archangel Michael
---
Archangel Michael via Goldenlight: Ascension Update: The Separation of the Worlds 8-22-13

August 22, 2013 by The Golden Light Channel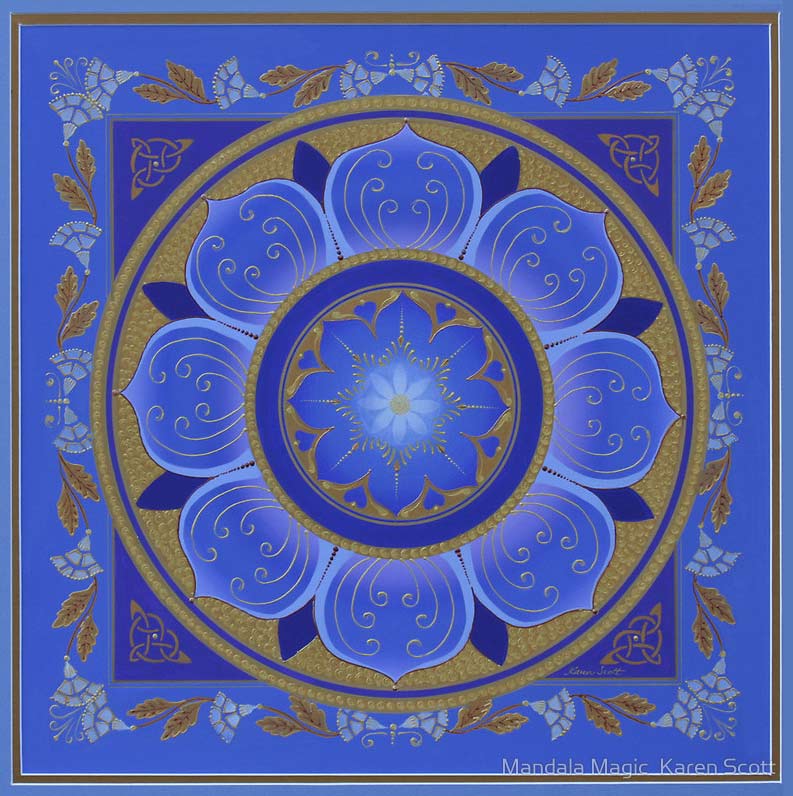 above image: "Blue Lotus", Mandala Magic by Karen Scott


Channeled by Goldenlight, thegoldenlightchannel.com. © The Golden Light Channel. Please include this copyright and full message (link below) without alteration when re-posting this message.
Greetings We are the Council of Angels and Archangel Michael and we wish to give you today a most pertinent message or update on your ascension processes for each of you are going through this internal ascension process in a bit of a different way, so that your experiences will be somewhat different amongst you. Many of you will end up eventually in the same place which is a higher dimensional realm of the new earth bathed in 5th dimensional frequencies, while some will remain by choice in the newly created higher 4th dimensional world, to assist others on their higher vibrational path. There is occurring at this time now the splitting apart of "worlds" or vibrational frequencies – the old 3rd dimensional world is nearly dismantled and dematerialized; a dead, unenergized holographic world that is ceasing to exist as we speak. Those in the 4th dimensional world which all of living humanity has entered into are also in a process of "splitting apart" energetically, so to speak, so that some will remain with the higher dimensional world of the 4th dimension – we say "higher dimensional" as it is an upgrade from the old 3rd dimensional paradigm which no longer exists or contains any living human beings – and another group of souls will move toward, or split off, into the 5th dimensional world. It is an energetic migration, or higher dimensional "crossroads" of sorts that is occurring quite rapidly now, relatively speaking, as we are in the final process of resonance into energetic pathways. This is not a one time occurrence but a process that is continuously shifting and changing and based on a person's individual soul path or journey combined with their level of conscious awareness, intention, and vibrational frequency.

The energetic pathways on which your soul would travel were made by your soul before coming to earth and are in alignment with your soul missions and pre-birth contracts made by you for your own evolution and growth. There is now occurring some moving back and forth between the different levels of 4D and also energetic vibrational frequency movements occurring in and out of the 5th dimensional new earth – many of you have energetically "visited" this 5th dimensional new earth in your dream states and meditations, and this will continue to progress until you have reached your highest energetic frequency resonation pre-planned by your soul before entrance into this lifetime on earth. The energetic visits to the higher dimensional realms have been occurring to prepare your beings to be able to withstand the higher dimensional frequencies and to prepare your physical body to be able to resonate with these higher frequencies of light. This raising of your conscious awareness and vibrational frequency has been occurring slowly but continuously over time since last December and is now coming into a time of reaching a crescendo of higher dimensional awareness, frequency resonation, and harmonization with these higher dimensional frequencies.

We urge you to tune in as often as possible to this higher dimensional frequency awareness which is encompassed by your multidimensional self. Your multidimensional self is the You that has been created by You, Source, your guides, the energetics of your soul path, and angelic realm assisted energies. This multidimensional self is You and exists in the Now……this "You" is simply patiently and lovingly awaiting for your earth vessel (including your body, brain, heart, mind), to "catch up" in vibrational frequency and merge energetically to continue on your spiritual journey of being and moving into the higher dimensions. All occurs simultaneously in the great Now and your multidimensional self exists outside of Time as we of the archangelic realm – as emanations from Source – also exist outside of Time.

The best meditation you can do for yourself right now is to connect in with your Multidimensional Self which exists outside of time, tune into this being that is You and envision yourself merging with this higher multidimensional You. Breathe yourself into the awareness of Being this Multidimensional You…then slowly open your "eyes" (with your spiritual vision or sight) and look around! Look at this beautiful new higher dimensional realm into which you are energetically merging into and look at this beautiful civilization which is flourishing in the Now. :) We will leave you now to your meditations as the channel has developed a headache from receiving this high-energetic vibrational informational higher light code packet and translating it into words which can be somewhat draining as words and writing is a somewhat archaic form of communication ~ in the higher dimensional world into which you are all energetically moving, higher communications are carried out telepathically and through visual light packets so that all can tune into them…this is the higher dimensional way of communication at which the channel is adept, and has also increased her skills in translating into written form these higher dimensional light code packets.

We of the higher dimensional and archangelic realms love you most dearly and are ever near, loving you, assisting you when asked, and here to ever guide you on your pathway back home to the light and towards your harmonizing with the higher dimensional vibrational frequencies of light. Namaste and we send you soft loving light on this most auspicious day.

~ Archangel Michael and the Council of Angels though Goldenlight

original message: http://thegoldenlightchannel.com/archangel-michael-ascension-update-the-separation-of-the-worlds-8-22-13

Channeled by Goldenlight, thegoldenlightchannel.com. © The Golden Light Channel. Please include this copyright and credit at top without alteration when re-posting this message.



Original message: http://thegoldenlightchannel.com/archangel-michael-ascension-update-the-separation-of-the-worlds-8-22-13
---
---
---
---
---
Your Personal Sacred Geometry by Archangel Michael Through Natalie Glasson
Your Personal Sacred Geometry by Archangel Michael
Channelled through Natalie Glasson- 07-08-13- www.omna.org


Multi-coloured rainbows of light from the Angelic Kingdom pour into your being and surroundings
creating pockets of joy, bliss and divinity to inspire the same to activate within your being. The
Angelic Kingdom are extremely present at this time upon the Earth, our energies are assisting and
supporting in building a new energetic fabric and foundation for the Earth and humanity but we are
especially assisting in enthusing the consciousness of humanity with vibrations of truth from our
souls. If you are able to consciously link into our vibrations of truth transmitting into the general
consciousness of humanity, you may find yourself being deeply inspired with vibrant information and
new exciting insights allowing you to gaze upon yourself and reality with fresh eyes. Never before
has so much wisdom from the Angelic Kingdom been shared so openly and poured into the
consciousness of humanity. The bond between the Earth and the inner planes, humanity and light
beings is enhancing as separation and illusions pour away. Many of you are now able to receive our
wisdom, understanding the truth and inspiration we are sharing, being able to transfer the
knowledge you receive into action and experiences on the Earth. As this occurs more regularly,
separation and illusions will give way to truth, inspiration and high vibrational consciousness
equalling that of the Angelic Kingdom.
During meditation you can be of service to yourself and to humanity by calling upon the multi-
coloured rainbows of light from the Angelic Kingdom to surround you completely, breathing this light
deeply into all aspects and parts of your being.
Imagine or create a symbol of your own consciousness, you may sense that your consciousness
extends from your soul but you may wish to include your mental body as an interpreter and
transmitter of your consciousness. Imagine, sense or acknowledge the multi-coloured rainbows of
light flowing into your soul consciousness, your mental body and mind.
Imagine the consciousness of humanity, you may visualise it as a cloud that hovers above all of
humanity, flowing into their beings. As you breathe deeply, imagine that the multi-coloured rainbows
of light are flowing into the consciousness of humanity, settling and drifting into their entire beings.
With each of these processes you are opening up to the energies of the Angelic Kingdom, say out
loud, 'I open myself as a divine receiver and channel of the multi-coloured rainbows of light of the
Angelic Kingdom, connecting with and receiving the sacred truth, inspiration and high vibrational
consciousness of the Angelic Kingdom. Support me in interpreting the wisdom and insights in the
most perfect way to further assist my ascension process. Let it be so.'
The more that you connect into the energies of the Angelic Kingdom you will notice your own energy
vibrations accelerating to equal the vibration and light frequency of the Angelic Kingdom.
Our purpose of anchoring light into your being and inspiring you to exist beyond separation and
illusions is to encourage deep awakenings and activations within your being. Your entire being is
already transforming in numerous exciting ways especially with the influence of the new energies
now anchoring as you have consciously moved into a cycle of love and experience of the Creator's
vibrations. Throughout the entire year of 2013 your vibrations are soaring but you are also
undergoing a process of stabilising within your energies which is in preparation for magnificent
activations to occur within your being which will transform you in many ways beyond recognition.
Your body and energies are akin to an alarm clock waiting to sound, once it is the perfect time and
your alarm begins to sound deep activations within your being will occur. There can be over a
thousand major activations and energetic shifts waiting to erupt from within your being, this will be
your body, energy and soul adjusting itself to align as and with the divinity of the Creator. It is
possible that even your physical body will alter, the way that you eat, the functions and even the
appearance of your body could alter drastically. Your perspectives may alter as your consciousness
and mind link into all dimensions of the Creator's universe; you will also be able to receive and
transmute abundant volumes of light allowing you to exist as a power source. In many ways you are a
species known as humanity which is developing into a new species upon the Earth that is
significantly more at one with the Creator. Due to the transitions that are and will occur especially at
a physical level we remind you of letting go of attachments particularly to your reality, appearance,
perspectives and desires. It is your soul that you can rely upon to offer you feelings of familiarity,
security, protection and unconditional love.
All shifts and activations will come from within your being and will sometimes ripple through your
chakras as powerful emanating light. With the presence of the Angelic multi-coloured rainbows of
light and due to the divine timing of the Creator, a beautiful activation is occurring or can be invoked
from within your being. The activation of your personal sacred geometry, this is the sacred geometry
of your soul, akin to powerful symbols of light that ignite further awakening remembrance and
illumination within your being. The sacred geometry flows through your chakras but especially your
heart chakra. The more that you can encourage and focus upon your chakras being cleansed,
healed and illuminated in and by light, the easier it will be for your soul's sacred geometry to flow
through your chakras. It may be that only a few symbols flow forward, entering into your conscious
being upon the Earth through a certain chakra that denotes and enthuses their energies and
purpose. Each person's experience may be different as the soul will bring forward, whether you are
aware or not, sacred geometry symbols which will form almost as an imprint or structure within your
chakras and auric field to aid the development of your divine purpose upon the Earth. This process
is extremely powerful as it is akin to a new map or directions being given to guide you forward upon
your divine path. The symbols will also offer strength where and when it is needed, increasing your
light quotient and energetic vibration. They will also awaken a new cycle in your spiritual growth that
is greater aligned to your soul.
It is not required for you to be conscious of this activation process occurring within you but it is a
breath-taking experience if you choose to be conscious with patience, inviting these powerful
aspects and tools from your soul to unite with your entire being, thus creating a further merge of soul
with all expressions of self. You can invoke this process to accelerate your spiritual ascension.
'Archangel Michael and the Angels of Ascension, I call upon you to surround and bathe me in your
multi- coloured rainbows of light, support and protect me as I move through this most beautiful and
enlightening stage of my ascension process. Assist the light of the Angelic Kingdom to move
through my chakras creating a process of cleansing, healing and purification. I connect deeply into
my soul and invite my soul with divine timing to transmit its most appropriate sacred geometry
symbols or patterns through the most appropriate chakra or chakras within my being. Assist and
support me in being conscious of this deep awakening process occurring within me, so that I may
be able to view, sense and acknowledge the sacred geometry of my soul, understanding its
meaning and purpose to aid my ascension process and my purpose at this time on the Earth. I allow
the activation of my soul's sacred geometry to begin and unfold within my being. Let it be so.'
You may find that you are able to draw the sacred geometry of your soul, furthering the process of
conscious awareness of yourself and soul. It is also likely that one of the symbols that comes forth is
a symbol of physical body renewal, transformation and divine alteration which will assist in what I
spoke of at the beginning of this communication.
With joyous support from the Angelic Kingdom
Archangel Michael
---
---
---